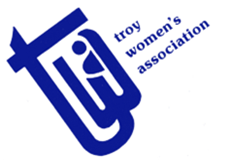 Proudly Serving Our Community

Mission Statement: The Troy Women's Charitable Association is a 501c3 non-profit volunteer organization whose members raise funds and support programs within their community.
​

Community Service and Personal Development:
The Troy Women's Association promotes projects of civic betterment and individual development.

Joining TWA gives women the opportunity to advance their leadership, social and creative skills while becoming a contributing factor in society.

If you are looking for a rewarding experience with like-minded new friends, we encourage you to join the Troy Women's Association. There is no residency requirement and all women over age eighteen are welcome.




---